Biography:
TROMBORANGA Salsa Orchestrar
The hottest Salsa band in the world circuit at present and new Salsa sensation from Barcelona "Tromboranga" is finally coming to the Japan!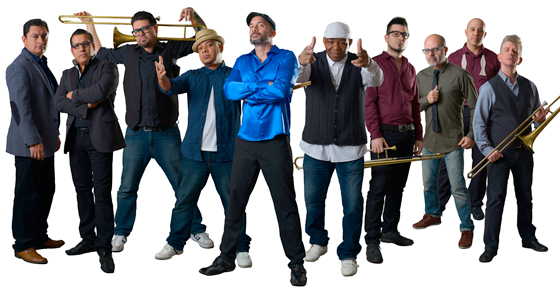 As part of the new generation of independent latin orchestras, Tromboranga is the pure essence of "Salsa Dura". Tromboranga´s spicy ingredients are the trombones sound, solid and strong percussion, and they recover the essence of "soneos" (voice improvisation among the chorus). With influences from the salsa music from the 60s and 70s, maintaining a raw, strong and a very danceable sound.
His original songs like "Humildad", "Palo pa la campana", "Amigo el ratón", "Adios que te vaya bien", talks about stories that can describe the life of any of us, and they have become number one in Latin radios and dance floors worldwide.
Tromboranga is made up of musicians from the Caribbean and Europe, all residents of Barcelona, Spain.
Its members are:
Joaquín Arteaga, Band leader, Timbal and composer from Venezuela, known for his long career as a percussionist and also as band leader of the orchestra "Bloque 53".
Diego Coppinger, traditional "Sonero", with an extensive carrer that includes "Tropicana" in Cuba, gives color and Cuban flavor, with great force and experience in his amazing soneos.
Freddy Ramos, young singer from Venezuela, also arranger with a wide impresive musical career.
Rafael "Madagascar" Arciniegas adds Colombian flavor to the with his piano and arrangements.
Lorenzo "El diablo" Barriendos, Venezuelan musician on bass, with tastefull tumbaos, known for his interventions with orchestras such as Trabuco Venezolano, Mango group Guaco among others.
The strong and colorful trombone section, which offers a distinctive mark on the band: Vladimir Peña (Venezuela), Josep Blanes (Spain) and Albert Costa (Catalunya), all supported by the taste and the conga afinque Cristian "El Niño" Cosanatan from Peru and the spicy bongo of José Cubas from Canary Islands.
Their first EP "Agua que va caer" hits the market in November 2011 in anticipation for the first official cd "Salsa Dura" (April 2012), considered by latin music lovers, DJs, dancers and specialize salsa bloggers among the 10 best CDs of 2012. Also recorded a CD together with Bloque 53 "Tumba Puchunga" where the song "Me alborotas" and also "Tumba Puchunga" reached number one in many Latin radios listings.
In April 2013 the new cd "Al mal tiempo buena salsa", take them to do their first world tour in Spain, France, Belgium, Switzerland, Netherlands, Tunisia, Germany and Colombia.
In November 2013 they release a L.P. Vinyl Special Limited Edition (only 300 copies) called "Solo para coleccionistas Vol. 1". They are invited to do 4 concerts at one of the biggest salsa festivals in the world "La Feria de Cali" and Pereira, Colombia. The 4 concerts were filled in its entirety. Since then the followers and fans of the band call themselves "Salseros Tromborangueros".
In 2014 visit Mexico on a tour of four dates, all concerts were sold out and the public had the opportunity to hear some songs from the 4th Album called "Salsa pa' rato", with 10 new original tracks.
From "Salsa pa´rato" album the track "Palo pa la campana" is already a hit among salsa dancers, been between top 10 salsa dancing songs of 2014. Also "Sentimiento Caleño", a song dedicated to the city of Cali. Songs with social messages like "Esclavo de tu apariencia", "No tengo pa pagar" and "Como la marea" also known for their catchy tune.
2015 arrives with new album "Golpe con Melodía" , with 8 new hard and raw salsa tunes, and great swing for dancers, with songs like "Golpe con Melodía", son montuno "Carretera" and a cover of "La mafia". And a extensive tour in Colombia, Ecuador and in USA for the first time in cities like New York, Miami, Los Angeles, Las Vegas and many more.
Other songs like "Agua que va caer", "Humildad", "Te provoca", "Adios que te vaya bien", "Mama Calunga", "amigo el raton", "Boogaloo Marilu", "Rompe colchon" are danced currently on the dance floor of salsotecas, dance schools, salsa parties and salsa festivals worldwide.
• TROMBORANGA Official Website