Biography:
Maykel Blanco y su Salsa Mayor
The wild, multitalented leader of a new generation of 
Cuban music brings his musical 'machine' to Japan!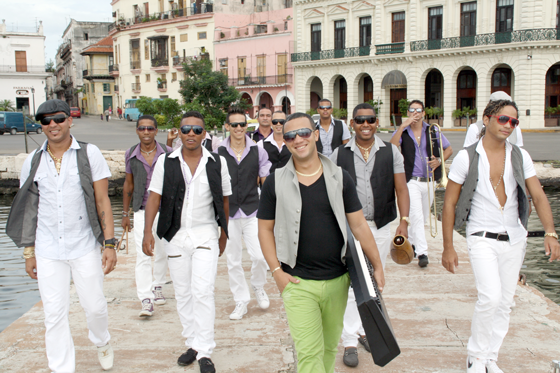 Maykel Blanco, the leading player in a new generation of Cuban salsa, comes to Japan for the first time bringing with him Havana's most powerful musical 'machine.' His Salsa Mayor band jump-starts audiences with dance energy, fueled by driving rhythms, hypnotic keyboard riffs, dazzling horn riffs and memorable chorus hooks. Blanco's musical ride caters for salsa and timba fans but with an inescapable catchiness and youthful attitude that can appeal to a wider audience of music fans including the reggaeton generation. His choruses aren't just sung in the streets of Havana, but also in Peru and Colombia, among other parts of Latin America. Italy is another heavy rotation tour destination for the band along with other salsa hotspots in Europe.

Blanco was destined to enter the world of salsa ever since the music of Venezuela's Oscar D'Leon touched him as an infant during a landmark concert in Cuba. Brought up in a family of dancers, Blanco at first embraced percussion, but later got thrown out of music college for indiscipline. He then took control of his own musical destiny, converting himself into an arranger and then a pianist, starting his first band in his teens. A self-taught musical maverick, Blanco has steeped himself in the classic sound of Cuban legends such as Los Van Van and Orquesta Reve and updated elements of that music to give it a fresher feel while still drawing on the fundamental approach of ex-Van Van keyboardist Pupy, former Reve pianist Juan Carlos Alfonso and Manolito Simonet. Blanco has production credits on scores of albums. The fifth and latest release from his Salsa Mayor is "A Toda Maquina" on Italy's Planet Records.